Dr. Robert D. Kilgour – Founder & Chairman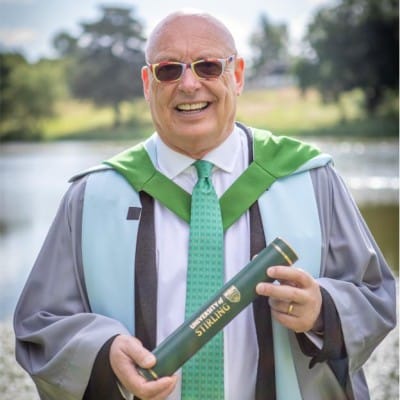 Dr. Robert D. Kilgour is a prolific Scottish entrepreneur, investor, property developer and philanthropist who founded Four Seasons Health Care in 1988 in Fife in Scotland.
After building up Four Seasons to become the UK's fifth largest operator with 101 care homes and employing around 6,500 staff, Robert left the company in 2000 and subsequently made his final financial exit in 2004.  
Four Seasons Health Care is still one of the largest care home operators in the UK with 190 homes, 9,000 residents and employing around 12,000 staff.  
Robert had come a long way from his first business venture which was running a stall selling jeans and T-shirts at Edinburgh's Ingliston Sunday outdoor market.  
Yearning for the entrepreneurial again, he co-founded CamVista Ltd, a remote monitoring security company which led to him to be a finalist in the E & Y Scottish Entrepreneur of the Year Competition in 2000. Robert went on to raise £1.64m from Sigma Technology Plc and other investors before completing the sale of CamVista to Evolve Holdings Ltd in 2002.  
In 2004, Robert founded and is currently Executive Chairman of Renaissance Care which operates fifteen care homes throughout Scotland employing 1,150 staff. The same year he co-founded NW Security Group, a UK-based specialist in IP-based CCTV and integrated security systems. Robert was also a founder shareholder, Director and then Chairman of Kingdom FM Radio, the independent local radio licensee for Fife in Scotland before organising its successful seven-figure sale to Thomson Media in early 2019.  
Over the years, Robert has continued to develop his Non-Executive Directorship experience including at Borland Private Clients Ltd, which is part of FCA regulated Borland Insurance Group and also at Morphose Capital Partners, to name just a couple.  
With an excellent track record in achieving high business growth and delivering successful investment strategies across a range of sectors, most notably in the care home sector, Robert has gained a range of diverse insights into the many challenges facing organisations, consumers and stakeholders alike.  
These insights have enabled him to become a trusted advisor to many, and to be regularly consulted on government policy. Robert is also a regular speaker and writer on the subject of social care on various media platforms throughout the UK.  
Robert is extremely proud that his business success has afforded him the opportunity to provide philanthropic support to a range of organisations, most notably Macmillan Cancer Support, where he was honoured to be appointed their first ever Ambassador in 2018. 
In June 2023, Stirling University awarded Robert an honorary doctorate for his outstanding contribution to entrepreneurship and philanthropy.
Having heard investors that I know well, actively stepping back from investing in the Scottish economy, I fear for the future and am urging business leaders to share their support for Scotland to remain in the Union of the United Kingdom. It will only be by strength of voice and an evidenced based case that we will be able to defend the will of Scottish businesses of all sizes to remain in the Union.

— Robert D. Kilgour

Patriotism is a love for your country and as a proud Scot I have spent my career helping to build economic opportunities and in attracting investment. I am also proud to be British and passionately want the United Kingdom to endure.  To succeed in that aim, we must acknowledge that remaining part of the Union is a key lynchpin in growing Scotland's wealth.

— Jack Perry CBE