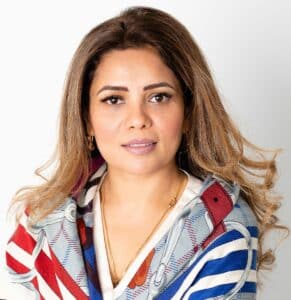 Dr Poonam Gupta OBE is a leading UK entrepreneur and CEO of one of Scotland's most successful export businesses, PG Paper. Her portfolio of companies now has an annual turnover of circa $100 million, operating in over 60 countries, with offices in India, the US, China, Sweden, Turkey, and the United Arab Emirates.
With a career-long interest in strengthening and enabling greater collaboration between Scotland and India; Poonam led a successful Scottish Chambers Task Force to India in 2019.  She has been recognised as one of the '100 Most Influential in UK-India Relations' by India Inc Group. Poonam is currently Vice President of the Scottish Chambers of Commerce and Chair of the Manufacturing Sector Committee of the FICCI UK Council, the largest and oldest apex business organisation in India.
Poonam's entrepreneurial and business efforts have also been acknowledged by her peer group and the industry at large; for which she has received several business awards, most recently Ernst & Young's 'Entrepreneur of the Year' in 2019. In recognition for her service to charity and business, she was awarded the Order of the British Empire (OBE) in the Queen's New Year Honours List in 2016.
Poonam is a benefactor of a number of local, national and international charities; with a particular focus on woman-centric issues, disadvantaged children, gender equality and animal conservation. Since January 2021, Poonam has also been an Ambassador for Young Enterprise Scotland.
Having heard investors that I know well, actively stepping back from investing in the Scottish economy, I fear for the future and am urging business leaders to share their support for Scotland to remain in the Union of the United Kingdom. It will only be by strength of voice and an evidenced based case that we will be able to defend the will of Scottish businesses of all sizes to remain in the Union.

— Robert D. Kilgour

Patriotism is a love for your country and as a proud Scot I have spent my career helping to build economic opportunities and in attracting investment. I am also proud to be British and passionately want the United Kingdom to endure.  To succeed in that aim, we must acknowledge that remaining part of the Union is a key lynchpin in growing Scotland's wealth.

— Jack Perry CBE