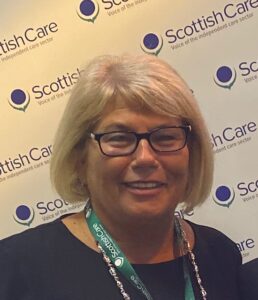 Maureen O'Neill has specialised in staffing solutions for over 35 years, during which she has developed and managed some of the largest contracts in Scotland and the Middle East in a variety of sectors such as healthcare, manufacturing, energy and distribution.
During the last 15 years she has focussed on the health and social care sector where, with the backing of her financial business partner, she has built two start-up companies that have become highly respected organisations in their fields serving both public sector organisations and leading blue chips.
In December 2009, following a management buyout, Maureen founded The Social Care Community Partnership, which supplies both temporary and permanent staff across the whole health and social care spectrum, including support workers, qualified social workers, heads of service, directors and chief executives to local authorities and charities in Scotland.
She founded The Nursing Partnership in November 2014 to supply locum nurses and healthcare assistants across Scotland. Working with the NHS and private sector, it has quickly become a partner of choice for quality and service.
Maureen is extremely passionate about delivering quality staffing services healthcare organisations and continually looks at collaborative ways in how it can improve as a sector.
Having heard investors that I know well, actively stepping back from investing in the Scottish economy, I fear for the future and am urging business leaders to share their support for Scotland to remain in the Union of the United Kingdom. It will only be by strength of voice and an evidenced based case that we will be able to defend the will of Scottish businesses of all sizes to remain in the Union.

— Robert D. Kilgour

Patriotism is a love for your country and as a proud Scot I have spent my career helping to build economic opportunities and in attracting investment. I am also proud to be British and passionately want the United Kingdom to endure.  To succeed in that aim, we must acknowledge that remaining part of the Union is a key lynchpin in growing Scotland's wealth.

— Jack Perry CBE