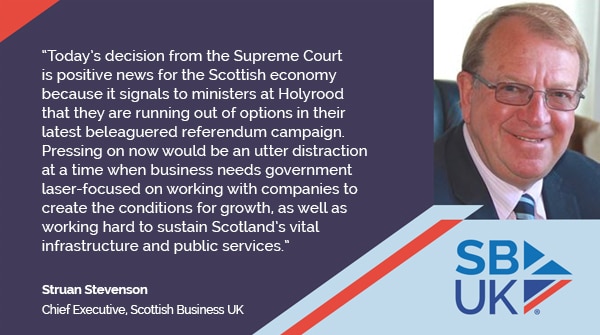 Supreme Court decision must signal government refocus on growth, says SBUK 
The Scottish Government must turn its attention away from the constitution and refocus its sights on creating growth in Scotland's economy and sustaining under-pressure public services.
That was the message from business group Scottish Business UK (SBUK) as it welcomed the Supreme Court's decision, delivered this morning, that ministers can't legitimately press ahead with plans to hold a ballot next year.
Struan Stevenson, CEO of SBUK said:  
"Today's decision from the Supreme Court is positive news for the Scottish economy because it signals to ministers at Holyrood that they are running out of options in their latest beleaguered referendum campaign.
"Pressing on now would be an utter distraction at a time when business needs government laser-focused on working with companies to create the conditions for growth, as well as working hard to sustain Scotland's vital infrastructure and public services."
SBUK is now calling on the Scottish Government to confirm that it will abandon proposals to use the next general election in 2024 as a 'de facto' referendum, arguing that doing so would be a pointless distraction from the work needed to support Scottish companies through the tough year ahead.
Robert Kilgour, SBUK's Chairman added: 
"It's time Scottish ministers tore up their 'Plan B', to use the next general election as a de facto ballot on breaking up the UK. To continue the same pointless indyref campaign would be a dereliction of duty, particularly given the weakness of the prospectus already put forward by the SNP government on everything from currency and trade to EU membership.
"For business leaders those ideas have been a non-starter, promising only uncertainty to companies and lower incomes for households across Scotland. We urgently need ministers to stop taking us up legal blind alleys and get back to governing."
A recent analysis by SBUK Advisory Council member expert Prof Ronnie Macdonald predicts a hike in the cost of imports, increased debt costs and higher interest rates costing average Scottish household 20% of income resulting from the Scottish Government's currency plans.
Media Contact: Media@scottish-business.uk
About Scottish Business UK
 –  Scottish Business UK (SBUK) is an independent, non-party voice for business leaders who want to see Scotland thrive economically as part of the United Kingdom. SBUK is a registered company known as 'SB Supports the Union Ltd'. https://scottish-business.uk 
–  SBUK's Advisory Council currently has a membership overseeing business interests that together employ over 10,000 people in Scotland and 35,000 people across the UK and Ireland. Profiles of each member can be read at https://scottish-business.uk/about-us/. SBUK is a registered company known as 'SB Supports the Union Ltd'.
Wednesday 23 November