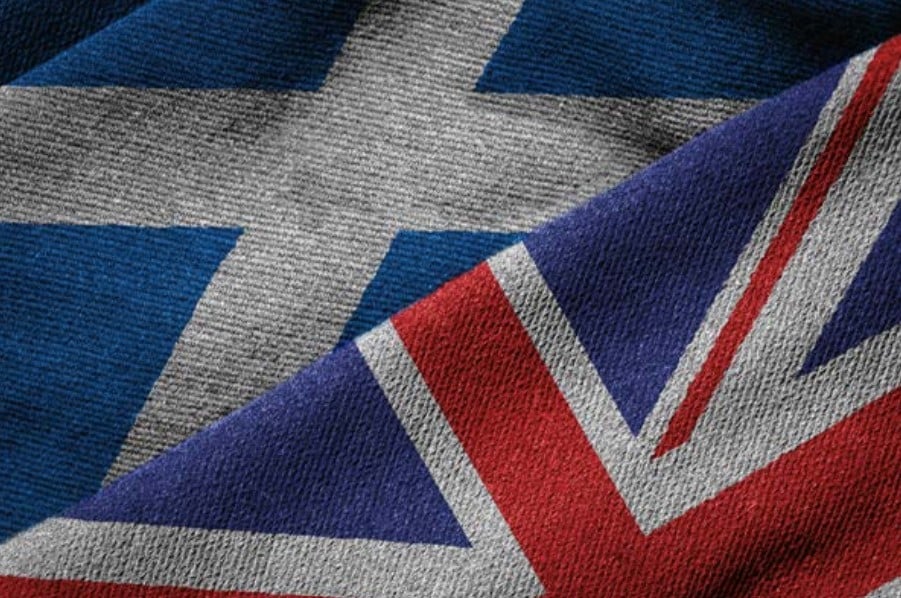 New 'Independence Uncovered' analysis models true cost of taking Scotland out of the UK
'Independence Uncovered' predicts 253,000 job losses and 10% drop in economic output
 Acute cuts expected in public services, and business sectors like financial services and retail also at risk
 Deprived communities across Scotland hit hardest, analysis predicts
A detailed independent analysis, commissioned by Scottish Business UK (SBUK), has uncovered the true scale of the challenges Scotland faces if it leaves the UK, including more than a quarter of a million job cuts and the loss of a tenth of the nation's economic output.
The report, Independence Uncovered: The Economic and Social Impacts of Scottish Independence, harnesses data sources and economic modelling methods used by the Scottish Government to deliver the most complete and authoritative analysis to date of the impact on the nation's public finances and private sector economy that independence would have.
It finds that leaving the UK would shrink the Scottish economy by at least 10% with a loss of £29.2 billion in economic output, £16.3 billion in Gross Value Added (GVA) and £9.9 billion in wage income.
Overall, nearly 90,000 jobs would be under threat across public services, including local government, education, health, social work and residential care.
The study shows that significant reductions in public spending, even if partly offset by tax rises, would hit Scotland's most deprived communities hardest. Around seven percent of jobs in Dundee and West Dunbartonshire would be lost through reduced public spending.
However, areas less reliant on public sector employment for prosperity would still experience significant job market contraction because of new barriers to trade with the rest of the UK and reduced demand throughout the economy, with significant losses in finance, energy, agri-food and engineering.
Aberdeenshire's economy would stand to lose nearly 5 percent of employment just through new barriers to trade, closely followed by Edinburgh and Glasgow (4.1 percent each).
Overall potential job cuts are also analysed by industry sector, revealing that taking Scotland out of the UK would hammer key industries and the financial services sector (down £4.7bn and 18,000 jobs and retail (down £0.6bn and 10,000 jobs).
The overall impact of leaving the UK would result in a loss of 44,000 jobs from Glasgow, 41,000 from Edinburgh, 17,000 from Aberdeen and 14,000 from Fife.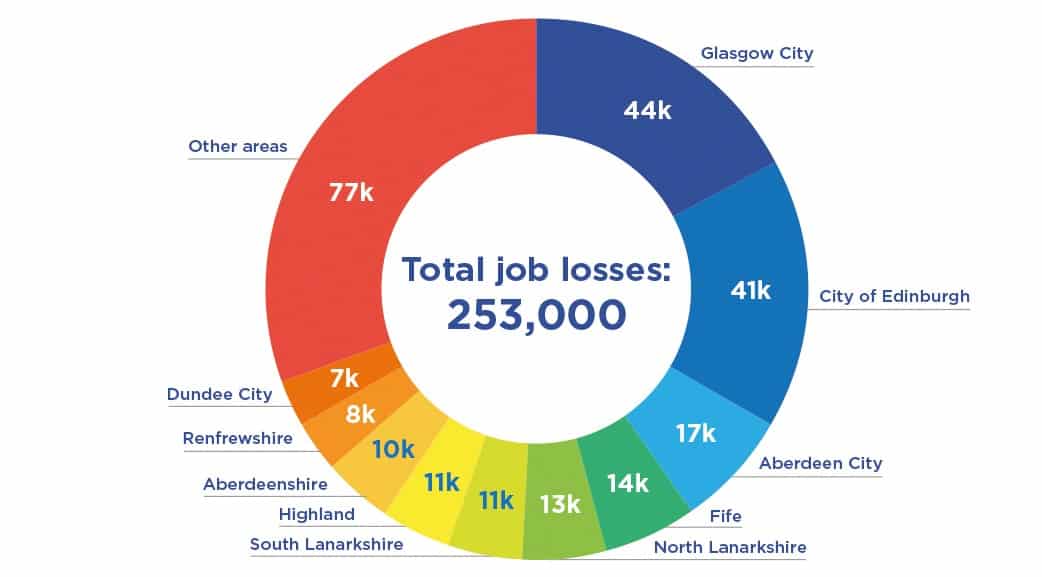 Struan Stevenson, CEO of Scottish Business UK commented:
 "For too long the Scottish Government has refused to clarify the true impact of the likely costs to changes in trade, currency, fiscal policy and investment that independence would deliver, despite the availability of published data on these subjects. Now we know why.

"The Independence Uncovered report suggests an unprecedented ten percent cut in the size of the economy, plus a quarter of a million Scots' jobs lost, many in the most deprived areas of the country that can least readily absorb the shock.

"Whoever succeeds Nicola Sturgeon as First Minister must level with the people of Scotland and explain why these costs should be shouldered by businesses and communities, because this report has driven a coach and horses through any pretence that taking Scotland out of the UK would deliver prosperity."
The 'Independence Uncovered' report has been prepared by 4-consulting, one of Scotland's most respected independent economic consultancies.
Its author, Richard Marsh, has previously undertaken research on behalf of the First Minister's Sustainable Growth Commission and is a member of two Scottish Government expert groups advising on statistics and modelling.
As well as using data and methodologies that are used and recognised by the Scottish Government, the new report errs on the side of caution by using conservative assessments of the cost of independence, meaning that they reflect the minimum impacts that Scotland would face.
This means that where the data points to a range of possible outcomes, a scenario more favourable to independence is typically provided.
Richard Marsh, Director of 4-consulting Ltd and lead author for the report commented:
 "A newly independent Scotland would face significant challenges in funding public services and maintaining trade with the remaining parts of the UK. A balanced approach to managing the economy would involve the loss of nearly 90,000 jobs across public services and a quarter of a million overall. This would also involve some property taxes doubling and council tax expanding by a third.

"The consequences of spending cuts would fall disproportionately across Scotland's less affluent communities. The economies of Scotland's more successful city economies would also contract in the face of more challenging trading conditions."
Ronald MacDonald, professor of macroeconomics at the Adam Smith Business School at Glasgow University endorsed the report's findings. He commented: 
"As Richard Marsh shows in his excellent and timely new paper, currency issues relating to independence, and the SNP's desire to re-join the EU, would severely limit the ability of an independent Scotland to address its twin deficits in any significant way by boosting economic growth.

"Rather, as the report clearly demonstrates, in the absence of such growth, an independent Scottish government would need to resort to severe fiscal consolidation and retrenchment which would have eyewatering implications for public sector spending, employment and economic output. Additionally, there would be further consequences and costs, in terms of the cost of living, trade costs and devaluation effects arising from the currency regime of an independent Scotland."
Robert Kilgour, Founder and Chairman of SBUK said:
"Richard Marsh's report makes for sobering reading, using data that's accepted by all sides in the constitutional debate. Our aim in publishing it is to move that debate forward by providing some of the clear facts on the tough choices another referendum would present to businesses and communities.

"Each of the candidates to be the next First Minister would do well to reflect on its findings and explain clearly to the people of Scotland how and why slashing a tenth of the economy and hundreds of thousands of jobs would serve the interests of businesses and communities.

"Better still, we would urge them to reset relationships with the business community by prioritising economic growth and quality public services over continued divisiveness concerning Scotland's place in the UK."
---
Media Contact: Media@scottish-business.uk
Click here to read a full copy of the report, Independence Uncovered: The Economic and Social Impacts of Scottish Independence. 
The study predicts that the combined impacts of public spending reductions and tax rises needed to plug Scotland's post-independence fiscal deficit would result in a loss of £14.2 billion of output, £8.6 billion of GVA, £5.5 billion of wage income and 149,000 FTE jobs.
Separately, the impact on trade entailed by breaking up the UK is expected to cut £13.3 billion from output, £6.7 billion of GVA, £4.0 billion of wage income and 98,100 FTE jobs.
About 4-consulting Ltd
4-consulting Ltd is an independent consultancy practice based in Scotland. Richard Marsh is an economist based in Scotland for over twenty-five years. Richard previously worked at the Fraser of Allander Institute (University of Strathclyde) and international real estate company DTZ. Richard has led high profile economics research projects for the Office of the First Minister for Wales, the Office of the First Minister and Deputy First Minister for Northern Ireland, the Office of the Chief Economic Advisor for Scotland and the European Commission.
Richard undertook research on behalf of the First Minister's Sustainable Growth Commission and is a member of two Scottish Government expert groups advising on statistics and modelling. He completed a three-year secondment at the Scottish Parliament's Financial Scrutiny Unit, supporting the scrutiny of economics and statistics during the independence referendum and the devolution of new powers to Scotland. He regularly undertakes public policy evaluation and appraisal and has supported development projects in Europe and the Middle East including masterplans and inward investment projects.
About Scottish Business UK
Scottish Business UK (SBUK) is an independent, non-party voice for business leaders who want to see Scotland thrive economically as part of the United Kingdom. SBUK is a registered company known as 'SB Supports the Union Ltd'. https://scottish-business.uk
SBUK's Advisory Council currently has a membership overseeing business interests that together employ over 10,000 people in Scotland and 35,000 people across the UK and Ireland. Profiles of each member can be read at https://scottish-business.uk/about-us/.
26 February 2023