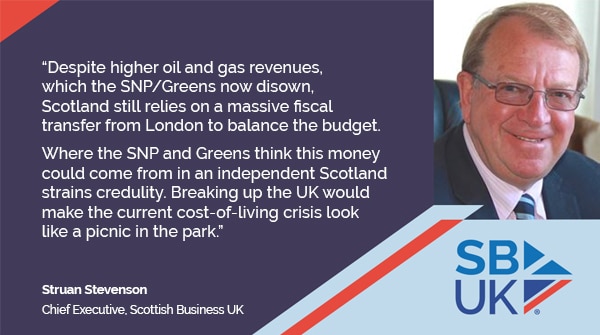 Scottish Business UK's reaction to today's publication of the Government Expenditure & Revenue Scotland (GERS) figures.
Struan Stevenson, Chief Executive of Scottish Business UK said:
"Revelations that the bill for civil servants and spin doctors in Scotland has rocketed by more than £600 million in the past 7 years and now tops £1.623 billion annually, underscores the extent to which the SNP/Green coalition at Holyrood has lost control. Humza Yousaf's appointment of Jamie Hepburn as Minister for Independence, spending over £1.4 million of taxpayers' money on a department boasting 20 officials, and a series of superfluous documents about an imaginary independent Scotland, is the tip of their spendthrift iceberg.
"Instead of concentrating on things that matter to Scots, such as health, education, transport and the economy, the SNP/Green's obsession with breaking up the UK and severing ties with our biggest trading partner, is putting the brakes on business growth and investment.
"The latest GERS figures showed that total Scotland-related public sector expenditure was £106.6 billion, while income from taxes was £87.5 billion, leaving a gap of £19.1 billion, or 9.0% of GDP.
"The Government Expenditure & Revenue Scotland (GERS) figures are compiled by the Scottish government's own senior economic advisers and estimate the difference between what Scotland raises in taxation and what we spend on public services. Despite higher oil and gas revenues, which the SNP/Greens now disown, Scotland still relies on a massive fiscal transfer from London to balance the budget. Where the SNP and Greens think this money could come from in an independent Scotland strains credulity. A prospectus based on such dishonesty is bound to fail. With mortgages, rents, and pensions already under severe pressure, the shock of separation would be catastrophic. Breaking up the UK would make the current cost-of-living crisis look like a picnic in the park".
ENDS
About Scottish Business UK
–   Scottish Business UK (SBUK) is an independent, non-party voice for business leaders who want to see Scotland thrive economically as part of the United Kingdom. SBUK is a registered company known as 'SB Supports the Union Ltd'. https://scottish-business.uk 
–  SBUK's Advisory Council currently has a membership overseeing business interests that together employ over 10,000 people in Scotland and 35,000 people across the UK and Ireland.  Profiles of each member can be read at https://scottish-business.uk/about-us/.
Contact: Media@scottish-business.uk
Wednesday 16th August 2023