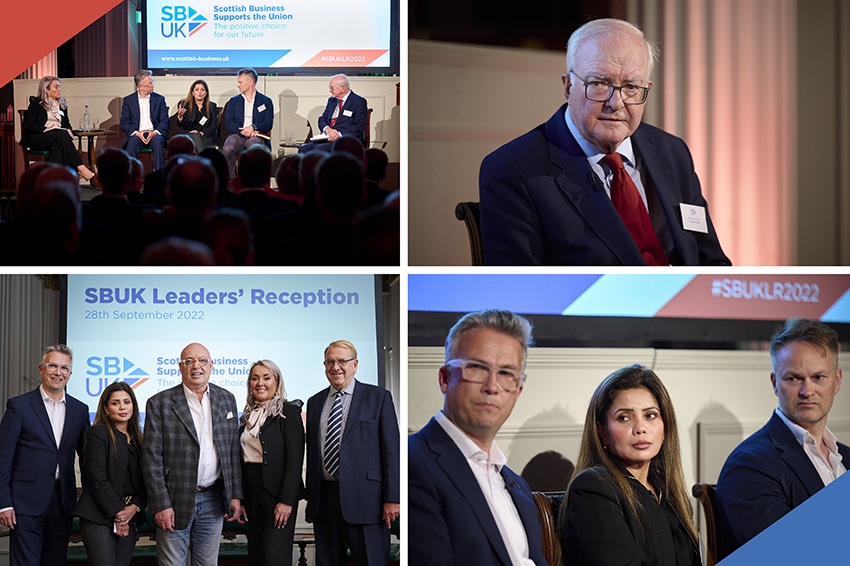 Leaders' Reception discussion marks milestone for SBUK  
Senior figures from across business and politics gathered at the Signet Library in Edinburgh on Wednesday night for a special Leaders' Reception to mark Scottish Business UK's fifth anniversary.
Wednesday's event saw around 100 leaders gather to hear a panel discussion on the future of the Scottish economy chaired by author and journalist Magnus Linklater CBE, featuring Dr Marie Macklin CBE, Founder and Chair of HALO Urban Regeneration Co; Dr Poonam Gupta OBE, Chief Executive of PG Paper; Iain Anderson, Executive Chairman of communications and strategy specialists H/Advisors Cicero; and Chris Stewart, CEO of commercial real estate company Chris Stewart Group.
Guests were welcomed by SBUK's founder and chairman, Robert Kilgour and CEO, Struan Stevenson.
Robert Kilgour commented:
"We were delighted to welcome such an illustrious gathering of business leaders for the first ever SBUK Leaders' Reception. The event was a fitting celebration of SBUK's growth and success over half a decade and has clear potential to become a leading fixture in Scotland's business calendar.

"I'm immensely grateful to everyone who attended, and particularly to members of the panel. They provided an exceptionally timely, thoughtful, and often inspiring discussion on the experience of leading businesses as they navigate the current risks and challenges facing the economy here in Scotland and across the UK."
Struan Stevenson added:
"From small beginnings, SBUK now provides a vibrant and expanding network of company leaders from diverse backgrounds and sectors, providing a much-needed voice of reason and experience. We look forward to continuing to campaign for a more business-friendly, collaborative approach to public policy in Scotland that focusses on sustainable company growth the length and breadth of the UK."
Friday 30 September 2022