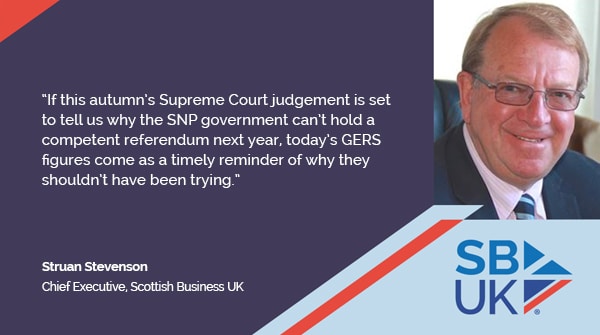 Responding to today's publication of the GERS figures, Scottish Business UK Chief Executive Struan Stevenson said:
"If this autumn's Supreme Court judgement is set to tell us why the SNP government can't hold a competent referendum next year, today's GERS figures come as a timely reminder of why they shouldn't have been trying.
"Despite the Scottish Government's attempt to spin the 2021/22 GERS figures as supportive of their case for separation, they showed that total Scotland-related public sector expenditure rose to £97.5 billion, while income from taxes fell to £73.8 billion. That leaves a gap of £23.7 billion, or 12.3% of GDP, that had to be filled by a fiscal bailout from Westminster. The UK deficit was less than half that of Scotland at 6.1% of GDP.
"On this basis, at a time when public anxiety over the cost-of-living and soaring energy bills is skyrocketing, millions of Scots will be wondering why a fresh bout of constitutional upheaval would be anything but a bad idea. Breaking up the UK single market would only fuel inflation when we need to get and keep it back under control, just as having to get to grips with Scotland's public spending deficit without UK support would set back any hope of a return to economic growth."
ENDS
About Scottish Business UK
–   Scottish Business UK (SBUK) is an independent, non-party voice for business leaders who want to see Scotland thrive economically as part of the United Kingdom. SBUK is a registered company known as 'SB Supports the Union Ltd'. https://scottish-business.uk 
–  SBUK's Advisory Council currently has a membership overseeing business interests that together employ over 10,000 people in Scotland and 35,000 people across the UK and Ireland.  Profiles of each member can be read at https://scottish-business.uk/about-us/.
Contact: Media@scottish-business.uk
Wednesday 24 August 2022