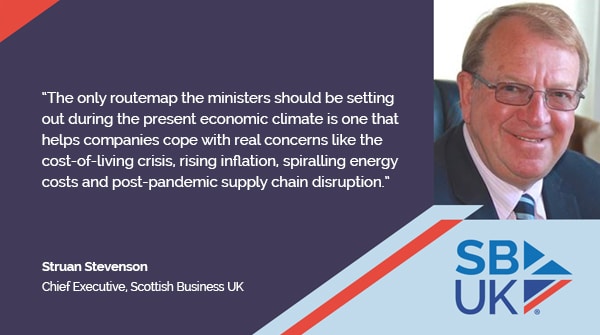 Responding to today's statement regarding the Scottish Government's referendum 'routemap' to break up the UK in 2023, Scottish Business UK Chief Executive Struan Stevenson said:
"By choosing to manufacture a pointless vote using £20 million of public funds that we can ill-afford, the Scottish Government is showing itself to be completely out of touch with the needs of business and public service providers alike. By referring the legality of such a consultative referendum to the Supreme Court, the First Minister is once again committing Scotland's hard-pressed taxpayers to further huge expenditure.
"The only routemap the ministers should be setting out during the present economic climate is one that helps companies cope with real concerns like the cost-of-living crisis, rising inflation, spiralling energy costs and post-pandemic supply chain disruption. For our First Minister to claim that independence is vital to tackle the cost-of-living crisis, shows that she has lost touch with reality; and pledging that even if the Supreme Court rules her referendum illegal the SNP will fight the next general election on the single issue of independence, makes it crystal clear that they have no interest in any of the real things that concern ordinary people.
"Breaking up the most successful and longest lasting single market in history by creating a hard border with England, would cause a catastrophic disruption to trade. Wasting time and taxpayers' money on a fake poll is a shocking self-indulgence on the SNP's separatist fixation."
Notes 
–  Scottish Business UK (SBUK) is an independent, non-party voice for business leaders who want to see Scotland thrive economically as part of the United Kingdom. SBUK is a registered company known as 'SB Supports the Union Ltd'. https://scottish-business.uk
–  SBUK's Advisory Council currently has a membership overseeing business interests that together employ over 10,000 people in Scotland and 35,000 people across the UK and Ireland. Profiles of each member can be read at https://scottish-business.uk/about-us/.
SBUK is a registered company known as 'SB Supports the Union Ltd'.
Contact: Media@scottish-business.uk
Tuesday 28th June 2022