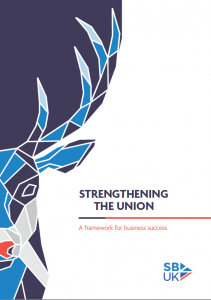 The new government at Westminster must seize the opportunity to rethink how it interacts with and benefits the devolved regions if it is to secure the future of the Union, according to Scottish Business UK (SBUK), a group which makes the business case for Scotland to remain part of the United Kingdom.
In a new policy paper, Strengthening the Union: A Framework for Business Success, SBUK argues that steps should be taken to overhaul decision-making in Scotland by undertaking a range of reforms that would improve democratic accountability and drive better outcomes for communities and businesses. These include:
Creating an elected second chamber within the Scottish Parliament with clear de-centralised, region-by-region representation and a remit to review policy, question the Scottish Executive and hold Scottish Ministers to account.
Establishing a new UK Department for the Union with grant-making powers that enable it to deliver specific and targeted strategic interventions that improve wellbeing and standards of living and lift the most deprived people and communities out of poverty.
Creating an Office of Budgetary Responsibility (OBR) for the Union to provide objective analysis of policy decisions and spending analysis on devolved budgets.
The report also argues that to successfully counter the SNP's drive toward independence in the years ahead, HM Government must be far more confident and assertive in articulating a clear, positive and ethical case for the Union.
SBUK's Chief Executive Struan Stevenson, a businessman and former Member of the European Parliament, said:
"With the latest official statistics showing that 60% of all Scottish exports go to markets in England, Wales and Northern Ireland, far outstripping figures for overseas trade, the economic arguments for Scotland remaining in the Union have never been clearer.
"Businesses in Scotland have had enough of the risk and uncertainty that the endless threat of separation entails. Yet it is equally clear that the SNP government will not stop searching for pretexts for a second independence referendum. That means there is an urgent need to identify new ideas to strengthen our shared institutions in ways that lock in rising prosperity for communities both here in Scotland and in the rest of the UK.
"Our hope is that the proposals in this paper mark a positive contribution to the ongoing debate over what that shared future should look like. They are grounded firmly in our belief that the Union is something of immense value that needs to be celebrated, upheld and – where necessary – sustained by prudent reform."
Robert Kilgour, founder of SBUK added:
"In truth most businesses have had enough of endless constitutional change, and it's far from clear whether steps to devolve powers to the Scottish Parliament in the last decade have improved outcomes for the economy or the public services that rely on it.
"We know that 'Scexit' threatens to create a black hole of more than £10 billion in Scotland's public finances, heralding years of unprecedented austerity and making matters worse. So while there may be a case in the future for devolution in areas like immigration, our immediate priority should be to examine how best to cement Scotland's place in the Union by making government serve communities better in terms of effective decision making, accountability and stability.
"With a strong majority at Westminster following December's general election, the UK Government now has the opportunity to take up new ideas and act on them and SBUK looks forward to being part of any debate on what reform looks like."